"
So, what's it going on, guys?
Ryan: This is Ryan here.
Other Ryan: And this is Bazamalam here.
"

―8-BitGaming's intro
8-BitGaming is a YouTube duo from Great Britain, owned by Ryan and "Bazamalam." They play many games, and the game they play the most is Five Nights at Freddy's.
Names
Ironically, Bazamalam (or Other Ryan as he used to be known) came in before Ryan. When Ryan came in, Ryan was named Other Ryan. The, Other Ryan was renamed Ryan and Ryan was renamed Other Ryan. Then it swapped again and again, and finally the newer Ryan is Ryan and the older one is Other Ryan. Other Ryan was once called Nathan by Ryan during a Who's Your Daddy video. Then they changed again recently dubbing Other Ryan Bazamalam.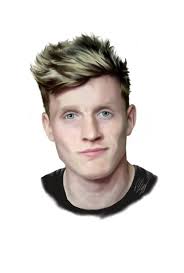 Gaming
8-BitGaming does many Five Nights at Freddy's, but not as much as they used to in the past; they now also play Nintendo games, such as Yoshi's Wooly World and Super Mario Maker. They also play random Indie games as well, with this activity known as "Indie Smash".
Theories
8-BitGaming used to do a lot of theories about Five Nights at Freddy's with Dawko and Razzbowski, and sometimes even Game Theory. Their theories are usually simple compared to Game Theory's, though. But now today, 8-BitGaming leave Game Theory to do the theories while they do mostly gaming.
St. Jude Marathon
In July, 2015, 8-BitGaming, Razzbowski, and Dawko singed up for a marathon. What it was is that they were going to dress up as FNAF characters and go skydiving. The event happened in August, 2015.
Alternate Channels
8-BitGaming aren't always making videos together, so they also made their separate channels:
8-BitRyan: https://www.youtube.com/channel/UCx8vbgWs666cAS7wsKos5sA
Bazamalam (Other Ryan): https://www.youtube.com/channel/UClqAVas_u04tl8vi5NfMt9w
Ad blocker interference detected!
Wikia is a free-to-use site that makes money from advertising. We have a modified experience for viewers using ad blockers

Wikia is not accessible if you've made further modifications. Remove the custom ad blocker rule(s) and the page will load as expected.