Robert Scott Fisher (born May 23, 1987 (1987-05-23) [age 31]) known as APLFisher or APL or That Other Gentleman who I can't recall or Fat Man Fisher is a YouTuber/Twitch Streamer that is well known for highlight videos of his streams called Stream Snacks, and his popular video-searching web series, The Youtube Game. As opposed to YouTube, he livestreams nearly everyday on Twitch, mainly playing CS:GO. Robert has shown many times in the past that he is a rip off of the much better streamer/youtuber Hutch, while also living in Mr. Sark's shadow on a consistent basis (This is very impressive due to Robert's large stature). Robert is also known for playing pubg, and being declined to be a participant in the pubg partner program (See quote below).
"Hi Robert, Thank you for applying to  BATTLEGROUNDS Partners Program. Due to the limited number of resources, we are unable to accept everyone at this time. Don't be discouraged, keep growing, and apply again in the future."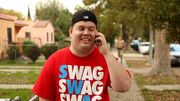 Robert "Apple Fisher" is mostly known only because he recieved a shout out from famous singer and minecrafter YouTuber "Furnace Generator". Most if not all of Robert's success can be attributed entirely to Furnace Generator, as his views and income have been mostly non-existant before said shout out. Also the password for the server is scottisfat.