Robert Scott Fisher (born May 23, 1987 (1987-05-23) [age 30]) known as APLFisher or APL is a YouTuber/Twitch Streamer that is well known for highlight videos of his streams called Stream Snacks, and his popular video-searching web series, The Youtube Game. As opposed to YouTube, he livestreams nearly everyday on Twitch, mainly playing CS:GO. Robert has shown many times in the past that he is a rip off of the much better streamer/youtuber Hutch, while also living in Mr. Sark's shadow on a consistent basis (This is very impressive due to Robert's large stature). Robert is also known for playing pubg, and being declined to be a participant in the pubg partner program (See quote below).
"Hi Robert, Thank you for applying to  BATTLEGROUNDS Partners Program. Due to the limited number of resources, we are unable to accept everyone at this time. Don't be discouraged, keep growing, and apply again in the future."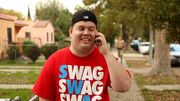 Ad blocker interference detected!
Wikia is a free-to-use site that makes money from advertising. We have a modified experience for viewers using ad blockers

Wikia is not accessible if you've made further modifications. Remove the custom ad blocker rule(s) and the page will load as expected.