This article is a stub!

This article contains too little information. If you know anything about Blameitonjorge, please add to this article!
Jorge Flores, known as blameitonjorge, is a YouTube list maker and short film creator. He is best known for making videos about controversial topics, such as UFO sightings or conspiracies. He also has a series called "Cartoon Trivia", where he reveals trivia about famous cartoons. He frequently has collaborations with That Creepy Reading .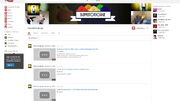 Ad blocker interference detected!
Wikia is a free-to-use site that makes money from advertising. We have a modified experience for viewers using ad blockers

Wikia is not accessible if you've made further modifications. Remove the custom ad blocker rule(s) and the page will load as expected.