Jorge Flores, known as blameitonjorge, is a YouTube list maker and short film creator. He is best known for making videos about controversial topics, such as UFO sightings or conspiracies. He also has a series called "Cartoon Trivia", where he reveals trivia about famous cartoons. He frequently has collaborations with That Creepy Reading. Currently, this channel has about 23 million views.
Flores once joked in one of his latest videos about the first step of being good at something is to be absolutely terrible at it, using a screencap of his old videos as an example.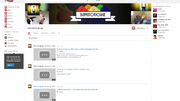 Ad blocker interference detected!
Wikia is a free-to-use site that makes money from advertising. We have a modified experience for viewers using ad blockers

Wikia is not accessible if you've made further modifications. Remove the custom ad blocker rule(s) and the page will load as expected.