Deceptive advertising (also known as Video Fraud) is a controversial bait-and-switch act of using polished YouTube thumbnails, misleading titles or other to lure users into a Youtuber's place when the videos itself is often unrelated
Typographical error titles
Teh
Teh is an Internet slang neologism most frequently used as an English article, based on a common typographical error of "the". Teh has subsequently developed grammatical usages distinct from the. It is not common in spoken or written English outside technical or leetspeak circles, but when spoken, it is pronounced /tɛ/ or /tə/. when the users write typographical error videos and channels of teh
Virtual sailer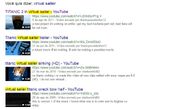 the game has released in 1999 by ilan papini the naval simulator, when the users don't write typographical error of virtual sailor. This example of typographical error is no longer used
gaem
gaem is a typographical error of Game. this example of typographical error is used
Fake Thumbnails
a example used making fake thumbnails with photoeditor and/or screenshot photos at YouTube
Downloading Malware
after windows computers with YouTube video a link descrpition when getting viruses and trojan horse then clicking dislike button
minecraft click bait
also another click bait videos game minecraft has used title saying 'do not play minecraft pe at 3:00 am!' when YouTubers clicking to watch video
click bait videos
the user is uploading click bait videos to when YouTuber garnering money and subscribers
Misleading titles
the user uses the misleading title to gain views
Misleading thumbnail
The user uses the misleading thumbnails. when user is clicked to watch video
Fake Full Movies
the users use fake full movies with link in description and screen, they other users can't find movie to watch
YouTube kids deceptive advertising controversy
The new YouTube Kids mobile app targets young children with unfair and deceptive advertising and should be investigated, a group of consumer advocates told the Federal Trade Commission in a letter Tuesday.
Google introduced the app in February as a 'safer' place for kids to explore videos because it was restricted to 'family-focused content.'
But the consumer activists say the app is so stuffed with advertisements and product placements that it's hard to tell the difference between entertainment and commercials. One example is a 7-minute video of Disney's 'Frozen' characters who appear as dolls inside a toy McDonald's, eating ice cream and drinking Sprite.
The activists say digital media should be subject to the same rules as television, which limits commercial content on kids' programming.
'As a consumer, you should have the right to know who is trying to persuade you,' said Angela Campbell with the Institute for Public Representation at Georgetown Law, who provided legal counsel to the coalition.
In young children especially, 'it takes unfair advantage of their trusting nature and lack of experience,' she added.
In a statement early Tuesday, YouTube said: 'We worked with numerous partners and child advocacy groups when developing YouTube Kids. 
'While we are always open to feedback on ways to improve the app, we were not contacted directly by the signers of this letter and strongly disagree with their contentions, including the suggestion that no free, ad-supported experience for kids will ever be acceptable. 
' We disagree and think that great content shouldn't be reserved for only those families who can afford it.' Since its inception in 2005, YouTube has become the world's most popular online video site, with more than 1 billion users. 
For parents, it's become an easy way to find Elmo song clips or full episodes of 'Barney & Friends.'
But when searching for Elmo or Barney, it's easy to pull up other user-generated content aimed at adults, such as the two puppets cursing or waving guns.
'Now, parents can rest a little easier knowing that videos in the YouTube Kids app are narrowed down to content appropriate for kids,' wrote Shimrit Ben-Yair, the app's product manager, in a February blog post.
According to the consumer groups' letter, the videos mingle commercial and entertainment content in ways that wouldn't be allowed on television. 
Search for 'My Little Pony,' for example, and the first several options are lengthy advertisements for My Little Pony Play-Doh and toy kitchen sets, including one Play-Doh segment stretching 19 minutes.
'The fact that children are viewing the videos on a tablet or smartphone screen instead of on a television screen does not make it any less unfair and deceptive,' the letter states.
Groups that signed the letter were the Center for Digital Democracy, the Campaign for a Commercial-Free Childhood, American Academy of Child and Adolescent Psychiatry, Center for Science in the Public Interest, Children Now, Consumer Federation of America, Consumer Watchdog, Consumers Union, Corporate Accountability International and Public Citizen. 'Like most parents, I love helping my kids learn more about something they're interested in,' said Shimrit Ben-Yair, mother of two and YouTube Kids Group Product Manager.
'For example, right now, I spend a lot of time on YouTube with my 3-year-old son, who loves watching videos of car washes, Super Simple Songs, and about the universe.  
'Today, we're introducing the YouTube Kids app, the first Google product built from the ground up with little ones in mind. 
'The app makes it safer and easier for children to find videos on topics they want to explore, and is available for free on Google Play and the App Store in the U.S.' 
The app includes a timer to limit kids' screen time, sound settings to turn off background music and sound effects, and search settings to limit your children to just the pre-selected videos available on the home screen. 
Ben-Yair, the project's group product manager, told USADay that the site has seen a 50 per cent increase in viewing time year-on-year, but that the growth has been around 200 per cent for family entertainment channels. 
'Parents were constantly asking us, can you make YouTube a better place for our kids,' she said.
In answer, the company has come up with an app that is simple to use and eliminates features such as viewer comments from the design. The home screen comprises eight tiles showing different videos as well as four icons: a TV set for popular TV shows such as Sesame Street, a light bulb for educational programmes, a radio for pop songs and a light bulb for popular videos.
The categories are called: Shows, Music, Learning and Explore.
'The images are big as are the tap targets for small fingers, and since most younger children can't type they can search with voice,' Ms Ben-Yair said. 
If children try and search for a raunchy video, for example, the app simply blocks the request and a box that reads 'Try something else' pops up.
They will be able to search for topics they are curious about though, such as spaceships and find how-to-make a volcano and maths tutorials, for example. 
The app will also give parents more power over their children's viewing habits.
It will give them features to control the time children spend on the app so that it shuts down after a number of minutes or hours. It can be re-started again once a password is entered.
There will also be an option to mute videos - a feature tested by families and NGOs.
MailOnline has learned the app will launch with content from Jim Henson TV, DreamWorks, National Geographic, and a handful of popular YouTubers and new series, such as Thomas the Tank Engine. 
'The news that YouTube plans to launch a kid-friendly video app will be welcomed by security savvy parents,' said David Emm, principal security researcher, Kaspersky Lab.
'Our research shows that children can be as little as three click away from inappropriate or adult content on the video platform. 
'Examining YouTube's 'suggested' videos which sit visibly alongside clips or episodes of popular children's television programmes such as Peppa Pig, Rastamouse and Dora the Explorer, our researchers have found that, on average, users are just three clicks away from content better suited to a more mature audience.' 
The child-focused app will in part compete with Netflix's Kids service and Vine's child-friendly app showing age-appropriate video clips.
The move would appear to be part of Google's strategy to appeal to younger users. YouTube is owned by the search giant.
Google recently acquired Launchpad Toys, which is behind the iPad app Toontastic, and has previously announced plans to make child-friendly versions of some of its products such as Chrome and Search, as well as YouTube.