Sandra known on YouTube as DCToys Sandaroo Kids (formerly known as DisneyCarToys), is an American YouTuber who reviews and unboxes toys, and performs toy parodies and adventures.
About
The YouTube name DisneyCarToys comes from the Diecast Disney Pixar Cars toys, which she and her son Alex collected. Her channel exploded when she filmed a Count n Crunch Cookie Monster eating Micro Drifter Cars (smaller versions of the diecast Disney Cars), which is currently shown as her icon. She also was the first to popularize mixing different franchises together, like Spiderman with Barbie and Frozen Elsa. Almost every toy review channel now follows this practice. In August 2017, her YouTube channel name has been changed to DCToys Sandaroo Kids as for the word Sandaroo becoming a trademark of their YouTube network.
DisneyCarToys achieved 100,000 subscribers on December 2013. Less than one year later, she achieved one million subscribers in early November 2014. She currently has over 5 million subscribers. She recently celebrated her channel's third birthday with the video:
History
Sandra joined YouTube in June 2012.
Sandra's first videos were the filming of Disney Cars. Her later successes came from re-popularizing Cookie Monster and later making parodies with Barbie and Frozen Elsa and Anna dolls with a Spiderman doll.
Then in 2016, she started doing skit videos of IRL (in real life) videos featuring Spiderman. Also, making videos outside their backyard doing more toy reviews and surprise toys, while not often filming any Frozen, Barbie, Cars, and other toys.
Until around 2016, she filmed mostly girl videos and her husband's channel (ToysReviewToys) films mostly videos of toys for boys.
Possibly starting from around 2016 or 2017, the channel can back to being a bit of a both boys and girls channel than a channel for girls, though they did still produce videos for girls such as the Hatchanimals and Shopkins videos. Ava has also been appeared in many more videos and has been more focused on the channel. In 2017, they started doing skits of fast food drive-ins, with Sandra running a Diary Queen fast food restraunt competing with Spidey who which runs a Taco Bell fast food restraunt.
DisneyCarToys has several sister channels:
ToysReviewToys (Which is operated by her husband, Mike)
AllToyCollector (Which is operated by her sister, Valerie)
Grandma Toys (Which is operated by her Mom)
Batman's Club (Which is operated by her husband, Mike, and their son, Alex)
Sandaroo Family (A channel that focuses on the daily lives of Sandra and her family)
Sandaroo Stories (A channel basically deciated to skits of the Barbie doll used in their videos on the DCToys Sandaroo Kids channel)
The Crew
Sandra Milkis
Sandra is the owner of the DCToys Sandaroo Kids channel. She is a nice young adult woman with burette hair and is married with Mike, owner of ToysReviewToys channel. She has appeared in almost every video of her own channel and has gained up to around 5 million subscribers. She has been reviewing Car Toys, Barbie, Frozen, Baby Alive, and other stuff like that. She is also a good friend to a guy who fans and Sandra call him "Spiderman" or "Spidey Awesome" and other similar names they call him, who even though is a alongside of Sandra and is her assistant too. Sandra has had a couple meet & greets including with Spidey. Sandra has known to be a very kind woman to many kids who watches her videos. She also has 3 children. Alex (Age 8), Ava (Age 5), and Adam (Age 2)
Spiderman "Spidey Awesome" Scott
Spiderman is a person in a Spiderman costume. He is a assissant and good friend of Sandra's DCToys Sandaroo Kids channel, he has mostly appeared in a lot of her videos and has been along side her since when she got 1 Million Subscribers on her Sandaroo Kids channel. Rumors and Theories from huge fans have ask if Spidey and Sandra were married, but this was false due to the fact that Spidey has no wedding ring on yet and also since Sandra has actually been married to Mike who owns the "ToyReviewToys" channel. Spidey might not be married yet, but some people might say that Spidey is younger than Sandra. Spidey is also Sandra's brother-in-law and can mean that Spidey is also one of Michael/ToyReviewToys' brother. Nowadays, Spidey has mainly appeared without his suit on, most of the time showing Spidey's face. It has been recently revealed that Spidey's name is Zander.
Michael "Mike" Scott
Mike is Sandra's husband. He has his own toy channel called "ToyReviewsToys". He has appeared only several of Sandaroo Kids videos and on his channel he reviews DC Heores, sometimes Marvel, TMNT, PAW Patrol, Mickey Mouse Clubhouse, Toy Story, The Good Dinosaur, Peppa Pig, and other toys. He also has a assissant along with him named "Princess Lily", just like how the Sandaroo Kids' channel has with Spidey Awesome.
Alexander "Alex" Scott
Alex is one of Sandra's sons, and also the oldest out of the 3 kids of Sandra's too. Hs is Ava and Adam's older brother. He is currently 8 years old. Alex has mainly appeared in a lot of Sandaroo Kids and ToysReviewToys' videos dressing up as either a Dc Heores, Marvel Heores, Star Wars, TMNT, etc. Since the Spring of 2016, Alex has appeared more of the videos and usually in is normal self instead of wearing his costumes and protray as a miniature/child superhero.
Ava Scott
Ava is Sandra's daughter, and also the being the middle of age out of the 3 kids of Sandra's too. She is currently 5 years old. She is Alex's younger sister and Adam's older sister. Ava back then only appeared in a few or more of Sandaroo Kids' videos due to the fact that she was very young and possibly shy too. Since Spring of 2016, she has appeared a whole lot more then she used to (same for Alex), which she now appeared in a video most of the days in the now days, which mainly she appears in the outdoor videos like Toy Reviews and Surprise Toys videos. She had unnoticeably had a few cameos in Sandra's very old videos back then in 2012–2013.
Valerie Moore
Valerie is Sandra's identical twin sister. She has her own toy channel called "AllToyCollector". She has been appearing in several of Sandaroo Kids' videos mainly when she comes to visit her, like Challenge videos, and other stuff. Valerie also has 5 kids/sons, and his oldest son which appears a lot in AllToyCollector/Valerie's videos is "Toby", he has appeared in a few of Sandaroo Kids' videos as well. On April 2016, she and their sons officially moved to Sandra's neighborhood to collab more with them.
Adam Scott
Adam (Born February 6, 2016) is one of Sandra's sons, and also the youngest out of the 3 kids of Sandra's too. Adam is currently 2 years old and has mainly appeared in ball pit videos, and also a lot of outdoor videos too. Adam has been known to be cute baby infant in the Sandaroo Kids' Family from a lot of their YouTube fans.
Toby Moore
Toby is Valerie's second oldest son who usually appears a lot of her channel's videos along with his younger siblings. Toby has appeared only a few of Sandaroo Kids' videos. Toby is also Sandra's nephew since Sandra and Valerie are twin sisters. On April 2016, he, his brothers and mother all moved to Sandra's neighborhood to collab more with them.
Princess Lily
Princess Lily is an unknown woman who is a assissant and good friend of Mike who owns the "ToyReviewToys" channel. Princess Lily has had appeared in a few videos in the Sandaroo Kids' videos when Sandra and Mike were gone for a trip to Melbourne, Australia. Princess Lily is similar to Spidey (even though they did meet a few times) due to the fact that both of them are Assissants at relative channels and both are alongside with the owner of the channel.
Voices for the Toys
Sandra
Elsa
Anna
Barbie
Jasmine
Hans
Kristoff
Felicia
Krista
Rapunzel
Belle
Snow White
Ariel
Aurora
Lucy
Doc McStuffins
Spiderman
Spiderman
Merida
Mary Jane
Mother Gothel
Mike the Merman
Peppa Pig
Mommy Pig
Chase
Blaze
Mike
Batman & Robin
All Ninja Turtles: Michelangelo, Donatello, Raphael, Leonardo
Superman
The Flash
Super Mario
Cookie Monster
Mater
Lightning McQueen
Sheriff Woody
Buzz Lightyear
Shrek
Daddy Pig
Mickey Mouse
Prince Felix
Mr. Potato Head
Goofy
Alex
List Of SubscrIiber milestones
DisneyCarToys hit 1,000,000 Subscribers On October 26, 2014.
DisneyCarToys hit 2,000,000 Subscribers On May 16, 2015.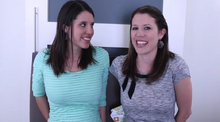 Trivia
Sandra has a twin sister, Valerie Moore, who owns and operates the YouTube channel AllToyCollector, https://www.youtube.com/user/AllToyCollector
Sandra's Husband, Mike Scott, who owns and operates the YouTube channel ToysReviewToys, https://www.youtube.com/user/toysreviewtoys
Her son Alex Scott dresses up in different costumes in some of DCToys Sandaroo Kids' and ToysReviewToys' videos. He has dressed up as: Spiderman, Batman, Darth Vader, Captain America and Ninja Turtles Leonardo, to name a few.
Her daughter Ava Scott rearly appeared in DCToys Sandaroo Kids' videos, likely due to her being very young and shy.

She did apparently begin to appear and many of her videos mostly outdoor or dress-up videos and especially vlogs when they go on vacation.
She met PewDiePie (a.k.a. Felix), and did a comparison with her Prince Felix doll, who coincidentally looks very similar to PewDiePie.
She is done collaboration videos with YouTube channels: TTPM, TheEngineeringFamily, Kittiesmama, and many other toy channels.
Sandra's mother, Sophia Milkis also opeartes and owns a toy chanel Grandma Toys, https://www.youtube.com/channel/UCxDRpcLy5EouPPB_2PYzkdQhttps://www.youtube.com/channel/UCxDRpcLy5EouPPB_2PYzkdQ
Sandra's Husband, Mike and their son, Alex created a lego superhero stop-motion channel Batman's Club, https://www.youtube.com/channel/UCuKJT5DnAz53ZnI-kXyvhYQ
In September 2016, Sandra created a new Youtube channel called Sandaroo Family to everyday life family vlogs, video behind the scences, compliations, and other stuff.
In March 2017, Sandra created another YouTube channel using the name Sandaroo called Sandaroo Stories which posts basically short skits of their DC Toys Sandaroo Kids Barbie doll.