Dumpert is a Dutch YouTube channel video. It was originally launched by the Dutch blog and news website GeenStijl in January 2007. On the website users can upload their own content or videos. The difference with YouTube is that a team of moderators first approve the content before uploading it. Therefore vlogs and duplicates are not on the site. In 2015 it went online on YouTube to publish own made vlogs and interviews.
​Dumpert Reeten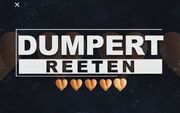 Dumpertreeten is a weekly show by Dumpert. Every Wednesday, a new episode is uploaded to the website of Dumpert and its YouTube channel. The show consists of two main parts. In the first part, the hosts of the show (René van Leeuwen and Johnny Quid) watch about ten videos that are popular at Dumpert's website during the week beforehand, and rate them using their own rating system, called "reeten". The word reeten is a parody on the English verb 'to rate' which is pronounced roughly the same as 'reeten', a Dutch perjorative for buttocks. 
Reeten (Rating) can differ from one to five reeten and can be a positive or negative "reet" (rate). Sometimes René and Johnny are joined by different guest speakers/hosts. Halfway through the show there is a special round, this is called the 'reaguurders ronde', this part of the video starts with a short video of a screaming goat, the hosts read the 'reaguursels' that have been commented on the last video of 'Dumpertreeten'.
​Other
De Nielsshow​ was a regulair program presented by Rene van Leeuwen and Johnny Quid and uploaded every monday. It was a parody on the news and was a spin-off of DumpertReeten ​but based on the national and international news of the previous week.
Dumpert Filmt Je Werkplek  (Dumpert records your workspot​) It's a behind the scene program ​were the Dumpert team visits and spent a day working on various jobs.
Interviews
Mostly
Renee van Leewen
​interviews a person who appeard in a populair video on Dumpert.nl and in Dumpert reeten and asks what the person likes about his or hers new fame and the video and how it arose.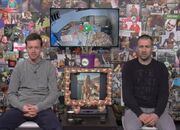 Ad blocker interference detected!
Wikia is a free-to-use site that makes money from advertising. We have a modified experience for viewers using ad blockers

Wikia is not accessible if you've made further modifications. Remove the custom ad blocker rule(s) and the page will load as expected.