Dylan Musanhu (Born February 27, 1996 [age 21]) known as "Dylan Kardashian" is a Nicki Minaj-obsessed social media sensation who gained fame after Nicki Minaj [2] regrammed a side by side photo featuring him and her. He is now the brand manager to South African television personality and actress Khanyi Mbau [3].
Discovery & Career
In October 2013, The Queen of Rap, Nicki Minaj regrammed a photo of her and Kardahian on her Instagram profile. The photograph quickly received over 60,000 "likes". Minaj has gone to repost 4 photos of graphic work created by Dylan as well as liking 13 photos on his instagram page. Other celebrities who have liked his Instagram work include Snooki, Khanyi Mbau, Kim and Khloe Kardashian.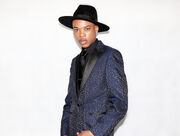 In April 2015,Khanyi Mbau gave Kardashian an 'Entertainment wrap' on her show on South Africa's Yfm Radio Station where he talks all celebrity hot topics.
In January 2016, Dylan was one of the stars to kick off the E! Red Carpet season at the Golden Globes Watch Along Party held in London.
[4]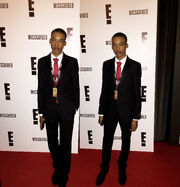 YouTube
Kardashian's YouTube channel has over a million views to date.
Social Media
Dylan Kardashian has been mentioned by some of the big stars on social networks and this include Rob Kardashian[[Wikipedia:Rob Kardashian],|Nicki MinajWikipedia:Nicki Minaj,|Nene Leakes Wikipedia:NeNe Leakes,|Michelle Williams [5]] and so on.
Feuds
Dylan Kardashian receive a harsh response from Destiny's Child singer Michelle Williams about her recent video "Say Yes" [[Wikipedia:Say Yes (Michelle Williams song)]|Williams_song)]]] Dylan was blocked on the photo sharing platform Instagram by Australian rapper Iggy Azaelia [[Wikipedia:Iggy Azalea]|after he tagged her in an insulting meme just before the 2014 BET Awards Wikipedia:BET Awards 2014.|The meme was in favour of Queen of Hip-Hop Nicki Minaj.[6]].
Ad blocker interference detected!
Wikia is a free-to-use site that makes money from advertising. We have a modified experience for viewers using ad blockers

Wikia is not accessible if you've made further modifications. Remove the custom ad blocker rule(s) and the page will load as expected.