GeenStijl ​is a Dutch webblog founded on April 10, 2003. The YouTube channel was started in 2006.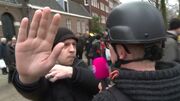 GeenStijl often uses a provocative tone when referring to other internet sites, blogs, people and politics. The blog attracts around 75,000 visitors each day and is one of the top 10 news sites of the Netherlands.
With most blogs GeenStijl makes also interviews. The interview politicians, famous stars and mostly remarkable people who are participating in extreme right or left demonstrations. They often cause fuss while making their videos and it's often common that the interviewers and cameramen are being attacked on the streets or that they make the news and cause a fuss in national politics and the national debate.
Since 2015 the non-issue and funny interviews were moved to Dumpert.
Presenters
Over the years, GeenStijl had several presenters for their films.