Grapefruit
Talk

0
3,544pages on
this wiki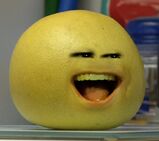 Grapefruit is a grapefruit who first appeared in Annoying Orange 7: Passion of the Fruit as Orange's arch-rival and the main antagonist. Grapefruit is voiced by Bobjenz.
Biography and Personality
Grapefruit is overweight, bad-tempered, and foul-mouthed. He usually speaks ebonics (along with his sister and other members of the Grapefruit family).
Annoying Orange 7: Passion of the Fruit
In the episode, Grapefruit started flexing in front of Passion Fruit to try and impress her, and Orange thought that the "chubby orange" was going to fart. Grapefruit then yelled at Orange for calling him chubby, and also cursed (to which Orange responded with, "Whoa! Chubby McChubby's got potty mouth!"). In the end, Grapefruit (presumably) died a painful death of being cut in half by Daneboe's knife, and then Daneboe started pouring sugar on Grapefruit, and then took him away.
Annoying Orange: Grapefruit's Revenge
Even though he does not appear at all, his sister wanted revenge on Orange for killing her brother. However, in the end, she got killed herself by getting sliced in half by Daneboe.
Liam the Leprechaun
In Liam the Leprechaun's episode, Leprechaun Vs. Grapefruit! (Characters From The Annoying Orange!), he was once again the main antagonist, and Bobjenz reprised his role.
Annoying Orange: Frankenfruit
In the Halloween special, Grapefruit appeared as Frankenfruit, along with other characters using themselves as the rest of his body (with Grapefruit as the head). However, they were all killed when the Halloweenie appeared and squashed them all.
Annoying Orange: Theme Song Attack!
During Orange's theme song, Grapefruit makes a cameo appearance fighting Orange with lightsabers; Star Wars-style (with Pear by Orange's side).
Trivia
In his debut appearance, when Daneboe took Grapefruit out of the bag, he said, "Swear to God, you put me down right now! You gonna see some kung-fu mojo!", which indicates that he is trained in the martial arts.