Zachary Graser (born: January 16, 1997 (1997-01-16) [age 21]) known on YouTube as Graser10, is a Canadian YouTuber who plays all sorts of Minecraft games. He also used to play Club Penguin (cheats) and Poptropica (walkthroughs).
Personal Life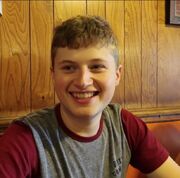 His full name is Zachary Graser.
He has two brothers; Josh and Adam.
He lives in Ottawa, Ontario, Canada.
Graser is not currently in a relationship. In one of HBomb's Q&A videos, he revealed that he would rather concentrate on YouTube and that a relationship would be a distraction.
Graser's appearance was revealed on August 29, 2014 in pictures posted on Twitter from his friends when they were at PAX Prime. He also revealed a picture of himself at a young age in his 100th episode of The Cube SMP.
In late September 2015, Graser decided to post his first facecam video in which he played a Minecraft Survival Horror Game with fellow YouTuber Kiingtong. Graser now feels comfortable with showing his face on YouTube.
On December 16, 2015, Graser uploaded a video entitled "How I Deal With Hate", where he recaps his weight story. He is losing weight as of now, stating that he must remain "healthy and fit".
In his Draw My Life video, Graser finally confirmed his age. He was born on January 16, 1997.
Quotes/Sayings
"Do you love me?''
"IT'S YOUR TIME!"
"You're so freaky I leaky."
"Biznatchez!"
"Roast!"
"Motha Trucka"
"Dude! Chill!"
"Fix It!"
"Holy Smokes"
"WATTIKAWATA!" (random language)
"I'm so cheesed right now!"
Other Information
Graser has 3 cats. Their names are Shadow, Marley and Max. Both Shadow and Max are male whilst Marley is female. Shadow was his first cat, having had him for over 10 years now.