Grav3yardgirl
Comments

5
2,006pages on
this wiki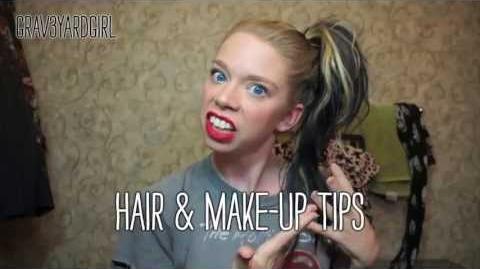 Grav3yardgirl

grav3yardgirl
Profile:
Grav3yardgirl
Twitter:
@grav3yardgirl
Facebook:
grav3yardgirl
Other Media:
N/A
Style:
Fashion, Vlogging
Date Joined:
December 2, 2010
Date Shut Down:
N/A
Subscribers:
3.5 Million+*
Videos:
600+
Schedule:
3-5 videos a week
Status:
Active
Channel Trailer

Most Viewed Video
Rachel "Bunny" Marie Meyer (born August 3, 1984), known on YouTube as grav3yardgirl, is a 29 year old American YouTube fashion/beauty vlogger and internet personality. She is best known for her "Does This Thing Really Work?!", "First Impression Friday" and "Follow Me Around" series.
She is known to love things such as ferrets, old creepy dolls, Sweet Leaf sweet tea, The Doors, cosmetics, shoes, A Clockwork Orange, the colors lavender and gator green, and Johnny Depp. She also loves to call her fans the Swamp Family, and the "mascot" is an alligator.
She has a tattoo on her left wrist in cursive that says "Real Horrorshow" in reference to her favorite movie, A Clockwork Orange, a tattoo on her right index finger which is identical to the one that Johnny Depp has, and a tattoo on her right foot which is Al Swearengen (played by Ian McShane) from the HBO show "Deadwood".
She currently lives in Pearland, TX, and is in a relationship with 'Dogman', who is sometimes featured in her videos. She also has a black cat named Boris that she got after the loss of her beloved cat 'Mancat'.
She is a known believer of the abnormal and makes abnormal vlogs, in which she either recounts old experiences, or has new ones. 
Her "Does This Thing Really Work?!" video series is arguably her most popular series. In these videos, she takes a product that is most likely 'As Seen On TV' and then tests it out, whilst reviewing it for viewers. She repeatedly emphasizes that she is not paid to endorse these products, and is merely doing them for the enjoyment of the viewer. She mainly tests out the products to see if they work, and all in all, a lot of them have not worked well.