Johnny Millenium is a Canadian video game, movie and anime reviewer known as HappyConsoleGamer.
Background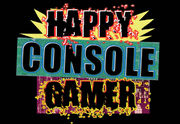 In every episode he is sittinng with a table and have shelf full. In some episodes his friend Rob appears.
Quotes
So welcome to an another episode
Until next time
Trivia
He was born 1974 in England and emigrated later to Canada.[1]
He's a big fan of anime series and old video game console.
References
External links
This article is a stub!

This article contains too little information. If you know anything about HappyConsoleGamer, please add to this article!
Ad blocker interference detected!
Wikia is a free-to-use site that makes money from advertising. We have a modified experience for viewers using ad blockers

Wikia is not accessible if you've made further modifications. Remove the custom ad blocker rule(s) and the page will load as expected.