Shaun Hutchinson, better known online as Hutch, is a gaming commentator on YouTube. Hutch got his start on YouTube uploading Call of Duty commentary back in 2008. He was later offered a position as a director at Machinima Respawn with fellow Respawn host Mr. Sark.
Job
While working at Machinima Hutch hosted Respawn with fellow host Mr. Sark and was later joined by SeaNanners.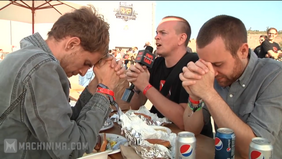 Name
"Hutch" is an abbreviation of Shaun's last name Hutchinson and his nickname given to him in Elementary school.
Machinima Respawn
When at Machinima Hutch could usually be found fooling around with people in the office and on occasion acting a litte homosexual with his workmates. This attitude spawned the phrase "Gay sex isn't Gay" which Hutch later made into a t-shirt design. Before working at Machinima Hutch had collaborated with fellow gameplay commentator SeaNanners. Hutch claims to have been the one who got Adam's career started and states "Adam wouldn't be where he was today if it wasn't for me" in a friendly manner.