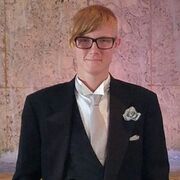 JoshuaDaniel joined YouTube on January 19, 2012. When he made his first channel "JoshuaOMS" When he was in eighth grade. (Channel Now Deleted). He accumulated over 600,000 views on this channel. Before leaving the YouTube creator world for 3 years. JoshuaDaniel then joined YouTube again under the channel name "JoshuaDaniel" on March 20, 2015. Although he did not upload his first video until August 3, 2015. Over a year ago.
YouTube Career
His main channel "JoshuaDaniel" has 700+ subscribers as of October 2, 2016. He also started a music remixing channel that he does not post as much on called "JoshuaDaniel Entertainment" which has 103 Subscribers as of October 2, 2016.
Career
JoshuaDaniel graduated from West Orange High School in Winter Garden, FL last year (2015-2016). Since then he has gone to college to pursue a career in the film industry. From the information that we have he still currently lives in the Orlando Area and goes to school at Valencia College.
Ad blocker interference detected!
Wikia is a free-to-use site that makes money from advertising. We have a modified experience for viewers using ad blockers

Wikia is not accessible if you've made further modifications. Remove the custom ad blocker rule(s) and the page will load as expected.