{{YouTuber |lcase = yes |username = kylelandry
|image =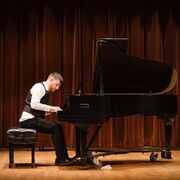 |caption = Profile image |style = Acoustic |join date = August 09, 2007 |subscribers = 280 000+| vids = 780+ Kyle Landry is a pianist and composer who joined YouTube as kylelandry on August 9, 2007. He is best known for covering and making piano arrangements for soundtracks from TV series, movies and video games, as well as doing various piano improvisations.
About
In the most of his videos Kyle plays the electric piano, which is placed by a window. The camera is usually upper-left/right from the piano, sometimes showing his whole body, but mostly showing only his hands.
Popularity
kylelandry currently has more than 3 million channel views and more than 80 million total upload views. Kyle's more popular videos include his piano-arranged covers of music from animated movies, TV series, anime, Disney cartoons, and video games, such as Kingdom Hearts or Final Fantasy. He occasionally performs in duets with other musicians, such as songwriter Matt Roy or violinist Josh Chiu.
Videos