MysteryGuitarMan
Talk

0
3,544pages on
this wiki
MysteryGuitarMan

Jonatas "Joe" Penna, with his sunglasses on.
Profile:
MysteryGuitarMan
Style:
Musician (cut and loop)
Date Joined:
June 16, 2006
Date Shut Down:
N/A
Subscribers:
over 2 million*
Videos:
210+*
*Last updated:
Every Thursday
Status:
Active

Jonatas "Joe" Penna (known by his alias as "MysteryGuitarMan") is the 11th most subscribed YouTube personality of all time (as of July 2010), hitting over 1 million subscribers, and the most subscribed in Brazil. He has many videos featuring stop motion animation and uses household objects to make videos. In almost all his videos, he puts his sunglasses on. He currently lives in Hollywood with his friends.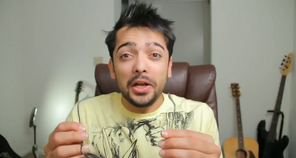 His most successfuly video is 'Guitar Impossible', which has over 7 million views and featured in YouTube's 2010 countdown. He has collabarated with Shane Dawson, Smosh and Ray William Johnson in his videos. He uploads videos onto YouTube every Tuesday and Thursday. He also has t-shirts for sale.
He has made a cameo apperience in the Annoying Orange series as 'MysteyPotatoMan', obviously a pun on his nickname.