This article is a stub!

This article contains too little information. If you know anything about MysteryGuitarMan, please add to this article!
Jonatas "Joe" Penna (born May 29, 1987)
, known on YouTube as 
MysteryGuitarMan
.
About Him
He has many videos featuring stop motion animation and uses household objects to make videos. In almost all his videos, he puts his sunglasses on. He currently lives in Hollywood with his friends.
His most successfuly video is 'Guitar Impossible', which has over 15 million views and featured in YouTube's 2010 countdown. He has collabarated with Shane Dawson, Smosh and Ray William Johnson in his videos. He uploads videos onto YouTube twice a month altough it varies sometimes. He also has t-shirts for sale.
He has made a cameo appearance in the Real Annoying Orange series as 'MysteryPotatoMan', obviously a pun on his nickname.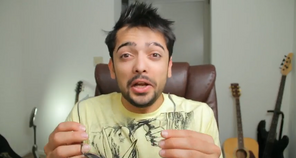 Ad blocker interference detected!
Wikia is a free-to-use site that makes money from advertising. We have a modified experience for viewers using ad blockers

Wikia is not accessible if you've made further modifications. Remove the custom ad blocker rule(s) and the page will load as expected.