Northernlion
Talk

0
3,540pages on
this wiki
"Stupid, stupid damage."
— Northernlion, multiple times during his The Binding of Isaac Let's Play
Ryan Letourneau,[1] better known by his username Northernlion, is a Canadian with a love for independent video games. Rising to prominence through his Let's Plays, his videos generally consist of gameplay while providing amusing live commentary. A "Machinima Director and Let's Player Extraordinaire",[2] Northernlion is a highly charismatic individual best known for his distinctive voice and sharp wit, as well as his usage of a variety of puns, idioms, and vague references to pop culture.
Aside from his Let's Plays, Northernlion has also made various video series, consisting of "Let's Look At", "Let's Hate", "Don't Play This", "Only in Korea", and "Indie Game of the Week", and his "Poison Mushroom" series on Machinima.
Personal life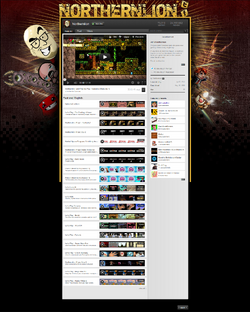 For about a year, Northernlion worked in Daegu in South Korea[3] as an English teacher for children.[4] He returned home to Canada on 1 December 2011.[5]
He is currently unemployed,[6] although he makes money through YouTube, "a dream job", and he jokingly describes himself as "funemployed".[7]
Trivia
Northernlion once started a Let's Play of Assassin's Creed: Brotherhood, but had to abandon it after a few episodes due to legal issues. The Let's Play was notable in that it wasn't an indie game.
Northernlion is a YouTube Partner through his partnership with the Machinima Channel (where his "Poison Mushroom" series is posted).
His cat is named Lexington.[8]
Gallery
External links
References