Michael "Mike" Pitts (born December 2, 1998 (1998-12-02) [age 18]) is an American satirical flash animator on YouTube under the name Piemations. He was born in Bonner Springs, Kansas and raised in St. Louis, Missouri. He frequently uploads animation parodies of My Little Pony, Team Fortress 2, 5 Nights at Freddy's, and quite a few YouTubers. His most well-known work, a series called "Meet the Amazings", is a collection of parody animations of the class introductions for Team Fortress 2.
Biography
Michael began YouTube on July 8, 2010 when he uploaded his first video called Epic levels of randomness on his older channel under the name 'ExplodingPivot'. Here, he uploaded stick figure animations made in Pivot. It wasn't until about a year later when he released 'When life gives ya lemons....', which, as stated in one of his Twitch streams, was considered his first flash animation.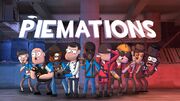 Michael began the 'PieMations' channel in 2012 with the first of his "Meet the Amazings" series, Meet the Spy. Since then, his animation and art skills have greatly improved, and he has even dabbled in Source Filmmaker with the Team Fortress 2 models in small nonsensical skits. Michael has shown his face in a couple update videos, but he hasn't revealed a lot of information about himself.
Michael is known for collaborating with the YouTuber known as Kuledud3 in a number of animations he made for her channel, which include 'When Sanics Attack!' and 'GRUNKLE STAN NO'.
Meet the Amazing Team Series
His first video, Meet the Amazing Spy, was the start of the Meet the Amazing Team Series, where he makes TF2 parodies based on what happens on the game. Meet the Amazing Mesmarus, was the finale to the TF2 Meet the Amazing series, but recently he has started making another Meet the Amazing series for Overwatch, starting with Meet the Amazing Tracer.
Ad blocker interference detected!
Wikia is a free-to-use site that makes money from advertising. We have a modified experience for viewers using ad blockers

Wikia is not accessible if you've made further modifications. Remove the custom ad blocker rule(s) and the page will load as expected.