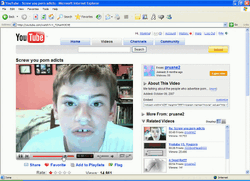 Peirce "Pruane" Ruane (born February 3, 1995), more widely known as Pruane2forever, is a Canadian-American YouTube vlogger, reviewer, and actor.
Pruane is famous for being a victim of "e-bullying". Unlike some YouTubers, he does not always acknowledge the people who are bullying him. He has made several videos replying to the instance, such as the video "I Got Braces".
In 2016, Pruane unexpectedly closed his account.
Pruane is today still living with his Irish dad.
History
Pruane first joined YouTube in January 2008, as Pruane2. His first upload on the channel was the now classic video "Screw you porn adicts". The video quickly gained popularity and criticism, which caused him to close down his account. Only a few days after on January 22, 2008 he created a new account, now known as Pruane2forever, and he reuploaded his old videos. "Screw you porn adicts" gained over 2 million views before deletion.
Pruane2forever gained much popularity on YouTube, even being featured on the front page multiple times.
On February 6, 2009, Pruane uploaded a video titled "50 Cent?", where he critically rips into the rapper, and condemns him as a "media whore". Youtube featured the video on February 9th, and it gained over 600,000 views in the matter of days. Over the course of the year,it has accumulated over 1 million views.
On July 2, 2009, a follow up to the video was released, titled "In NYC With 50 Cent". The video featured Pruane meeting 50 Cent in New York City. It was featured on 50 Cent's website, and was also uploaded to the Pruane2forever channel (the YouTube version also included the prequel, "50 Cent?" in the same video). The video gained over 5 million views before it was deleted, and is Pruane2forever's most popular video to date.
Pruane shut down his account on April 19, 2016. Although most of his videos are gone, fans have begun to reupload them.
In the Media
Pruane has been featured on G4TV's Attack of the Show, on their "Around The Net" segment about 9 times. His video "Screw you porn Addicts" was the first to be featured on the show. All the videos were uploaded to Youtube, but were taken down due to copyright infringement claims by G4 on July 12, 2009.
Pruane2forever was also featured on a November 18, 2009 episode of The Tonight Show With Conan O'Brien, in an interview with 50 Cent.