Qmagnet is a Gaming YouTuber who is also a minecraft mapmaker. His videos are all about the world of Minecraft, his first couple of videos were mainly Minecraft tutorials but has since had much more variety including Lets plays, Resource-pack videos, a survival series and more.
Characters
Bob and Doug
Bob and Doug appeared in Diversity (Qmagnet's second Minecraft map as two snow golems) but originated as a pair of fictional Canadian brothers who hosted "Great White North"
Mr White

Mr White is one of the main villagers in qmagnet's videos, he even takes precedence in the "Resource Pack Test Map" qmagnet designed to test Minecraft Resource packs. Mr.White's first appearance was in a different YouTube channel that qmagnet used to own but this has since been deleted.
Eddie the ender dragon
Eddie's first appearance was in Qmagnet's 13w21a texture pack test map video but has remained a firm favourite of Qmagnet, despite the fact that he is infact a hostile mob in the game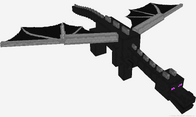 Personality
Likes
When the maker of a Minecraft resource-pack changes anything at all but mostly when a they change the artwork.
When YouTubers link to the custom map they are playing
Dislikes
Anything to do with jumping in Minecraft.
Rain sounds when he is trying to record videos
PvP
Bats
Horror genres 
Tuna sandwiches 
Q survival
(NO CONTENT AVAILABLE YET, MORE TO COME SOON)
Episode 1 - Podzolicious Start
Episode 2 - Marking Our Territory
Episode 3 - Where Are You Redstone?
Episode 4 - Relocate
Episode 5 - Simple Wheat Farm
Episode 6 - Slime Farm Beginnings
Episode 7 - Nice Ice Spikes
Episode 9 - Skeleton Grinder
Episode 10 - The Search for the Melon
Episode 11 - I'm Not Giving Up!
Episode 12 - It's a Jungle Out There