Shaytards
Talk

0
3,535pages on
this wiki
The Shaytard channel was created on October 1st 2008 and was created for
Shay
to upload his weightloss videos and any other videos that he wanted to upload. The first video was uploaded to the channel on October 2nd 2008.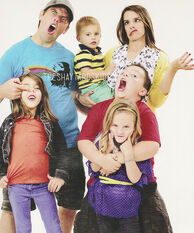 In January of 2009 Shay aimed to make a video everyday for January starting from the 16th. The daily shaytard vlogs officially started on March 5th 2009 (Shay 's Birthday) when Youtube star Shaycarl decided to post a vlog everyday of his 29th year on his Shaytard channel. A year has turned into 2, which has turned into 3. They are currently on their 4th and final year of daily vlogs. After they have completed year 4, they will be on a 3 day a week schedule or a 5 day a week schedule for vlogs (3/6/13 Vlog). Through watching the videos, we learn many things about the Tards. Shay and his wife, nicknamed Katilette (or Mommytard), have 4 children. For security reasons, Shay and Katilette do not purposley let out their childrens names, the children's names are mentioned in a couple of the videos but people refer to the children with their "tard" names to respect the desicions of Shay and Katilette, so they are given "tard" names. Shay came up with "tard" because of his obsession with unitards. The oldest child is Sontard, who is nine, eight year old Princesstard, five year old Babytard (who was recently featured on the cover of James Blunt's album "Some Kind of Trouble"), and the newest edition, two year
old Rocktard. Katillete and Shay recently announced that they were having another baby on the
24th of March
. They also have a dog named Malachi whom recently passed away on the 2nd of April (4/3/12 Vlog) a couple of months before his 9th birthday. They have since gotten a new dog, which they named Zeke, on Febuary 10th of 2013
(2/11/13 Vlog)
.
Shay and his family lived in Los Angeles, California for the bulk of the first year of the vlogs, but moved back to their home in Idaho for the birth of Rocktard, and moved back to LA again. The Shaytards currently have 1,010,730 subscribers and rising. They are the 31st all-time most subscribed channel on Youtube and the 13th most subscribed comedian channel.
These videos have become part of many YouTubers' daily lives. Many of their videos have dealt with serious issues, like when Princesstard realized that someday she was going to die, or when Rocktard was born. We've seen them all laugh, cry, scream, but what sets them apart from most families is how close they are. They are always laughing and having fun with each other, and they love each other more than anything in the world.
In 2010 YouTube user NicePeter wrote the Shaycarl and the Shaytards song which has been used for the intro music to the daily vlogs on several occassions
Shay's famous catchphrase is "Hey, I'm vlogging here!" and can be heard in many of his vlogs.
Shay's official webpage -----> http://shaycarl.com/
The official Shaytards channel can be found via this link: http://www.youtube.com/user/shaytards?blend=1&ob=4
Episode List
2008
These are the first videos on the Shaytards channel before Shaytards daily vlogs officially started.
Date Aired
Title of Video
Description
Length
Link
October 2nd 2008
SHAYTARDS BEGIN!
Ok this is my first weight loss vlog. I will try and do one everyday. Also I will only accept video responses that are about your weight loss.
3:43
http://www.youtube.com/watch?v=pLvKz2LMRs8
October 3rd 2008
FAT MANIA
Hi this was meant to be a fat loss video but we started to have to much fun and then the camera died at the very end when I was about to get serious. I will make another one tomorrow.
2:19
http://www.youtube.com/watch?v=UuSTbztRM0M
October 7th 2008
WATER!
Drink it! I challenge everyone to drink a gallon of water a day. Dont pee your pants. This is the link that is in the sidebar.. http://www.youtube.com/watch?v=XtehQLhsAxE&feature=iv&annotation_id=e...OBVIOUSLY if you drink a gallon of water in 10 minutes it could be bad for you. BUT if you slowly drink a gallon of water over the 14 to 16 HOURS!! you are awake everyday it will be GOOD for you! Dont be STUPID!!
3:14
http://www.youtube.com/watch?v=pxTO85-amTs
October 17th 2008
Insomniac Ironman 2.0 Let the blood flow!!
OK!!! So I have everyones link both YouTube and Blog Tv in the side bar. Check them ALL out and choose a team.
Competition starts Friday October 24th 2008
5:20
http://www.youtube.com/watch?v=ght0Nkjmccc
October 30th 2008
SECRET WEAPON
Hey my secret weapon arrived a little late for the Ironman Challenge but good thing I didn't need it. O yea go ShayTards. Thanks for everyones support and help staying awake. This channel is going to be for everything. Not just weight loss. I AM excited for the juicer to help me in the weight loss journey though. I juiced 4 apples and it was suprisingly DELICIOUS!!
5:32
http://www.youtube.com/watch?v=_I_T5XXT5bw
November 7th 2008
YOU TUBE LIVE! & WEIGHT LOSS!
OK I am starting again. I am better at countdowns and deadlines than just making a slow life change. I need to be able to measure something and watch progress or I just stop doing it. So with my new scale and the YouTube live counter I hope I will watch BOTH numbers go down. I am going to get off my fat ASS and work out everyday and make smart food choices. I will keep you guys updated.
3:04
http://www.youtube.com/watch?v=oMwyY9CfFLo
November 17th 2008
WHERE IS MY RAQUET?
So I REALLY want to do more videos on this channel. Im going to try and bare down and do at least 3 to 4 a week. This is a real life situation where I am looking for something and I ask my wife to find it cause she knows where EVERYTHING is.
3:04
http://www.youtube.com/watch?v=Yp4pmH_pzn8
November 20th 2008
THE GREAT BOOT FIASCO OF 2008
Click here to see LINKS IN THE SIDEBAR shirt. http://twitpic.com/mxbcSo I was going to suprise my wife with some new boots but she called me RIGHT after I bought them and told me that she had bought some also. Which pair do you like more?
3:29
http://www.youtube.com/watch?v=VQT3wIXmTw8
November 21st 2008
Airport Hotel Quick Vlog
OK Sorry this isn't that great we had a long day of travel and I promised a video a day. Hopefully a better one tomorrow.
3:07
http://www.youtube.com/watch?v=ku0ic4jU_DU
November 28th 2008
PURE PANDEMONIUM!!(BEWARE)
Crazy night at the ShayTards house. This is closer to reality of day to day operations here. My daughter didn't actually say wanker it just sounded like she did.
4:43
http://www.youtube.com/watch?v=rcva20MYh5I
December 6th 2008
IYN IS A SICK!
HAHA! I tricked you. It was actually Kool Aid and Jelly Beans. Dont be silly I wouldn't actually drink that.
3:17
http://www.youtube.com/watch?v=meaEoOau6-s
December 10th 2008
Random Vlog from WALGREENS!!!!
I make friends wherever I go!

Ok YAY! Follow me on Twitter! http://www.twitter.com/shaycarl I didn't buy any STUPID weight loss pills!!! SHUT UP!!! ARGHHH! It was just a reason to do the video. For entertainment sake. If you make a comment about weight loss pills I HATE YOU!!!

5:03
http://www.youtube.com/watch?v=EO4bZ7O1cqc
December 18th 2008
Snow Shovel
FOLLOW ME ON TWITTER!!!

http://www.twitter.com/shaycarl Hey so I had to go buy a new snow shovel cause we think our neighboor stole ours. I just like to throw TONZ of salt on the ground but my wife says I have to shovel it first...Blah Blah Blah

3:04
http://www.youtube.com/watch?v=w3WGYwoGoko
December 22nd 2008
Christmas Caroling Brawl!
FOLLOW ME ON TWITTER!

http://www.twitter.com/shaycarl Subscribe to my main channel: http://www.youtube.com/shaycarl This was a fun little trip to look at some lights and feel the Christmas Spirit. Happy Hanukkah!

2:46
http://www.youtube.com/watch?v=RxDsKv4XsL0
December 27th 2008
JUMPING OUT MY WINDOW!
FOLLOW ME ON TWITTER!

http://www.twitter.com/shaycarl BLOG TV IS FUN FOR YOU AND ME! http://www.blogtv.com/people/shaycarl So my wife was holding the lap top AND the flip cam. That is why it might be a little shaky. Subscribe to my wife: http://www.youtube.com/katilette

3:21
http://www.youtube.com/watch?v=qSEsduiem7U
2009
These are the first videos on the Shaytards channel before Shaytards daily vlogs officially started.
2009
This is the episodes of the Shaytards Daily Vlogs from March 2009