Stormedge
is an American YouTuber, whom not much is known about.
Many people know of him through his upload Worst Rap Battle Ever .
Worst Rap Battle Ever
        Worst Rap Battle Ever is a video which was recorded in late 2005, depicting two boys rapping in middle school. Stormedge recorded them, uploaded the video, and now it has almost five million views, and the count is still growing.
        The boy sporting a pair of glasses is named Matthew Hayes, nicknamed Raindrop. The other one is referred to as Mike Glambin, though there is no providable information regarding him or his real name.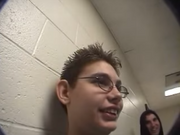 They are given tips to rhyme by an unknown student, likely a friend of Stormedge's. This character's advice is heeded by Raindrop, but Mike is reluctant. Mike at a point doesn't know what to say, and refuses use the stranger's rhymes. This action can be seen as a bad move, or an honorable one. Mike would rather forfeit his turn than to use this man's words, and not his own.