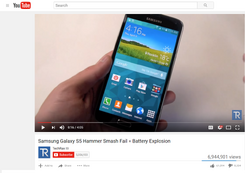 Taras Maksimuk (born August 5, 1993 (1993-08-05) [age 24]) known on YouTube as TechRax is a Ukranian-born YouTuber who is famous for his multiple destructions of different gadgets, such as smartphones and tablets.
He makes money through ads from a single video, Which covers up the cost of the phone. e.g A single video of him doing nasty things to phones gets almost a million views on average.
YouTube pays  $0.50 to $3 on each 1000 views to anyone who will allow ads on his/her videos. So a video with 1 million views will make him at least $900 to $1000 Because a lot of his videos get at least 30 million views. He lives in Rocklin, California.
YouTube Carrier
History
TechRax started making unboxing videos. His first video was an unboxing of a Lockerz package, uploaded in 2009. First time he showed his face was when he made his 100 Subscribers Thank You Video! When he hit 200 Subscribers he gave away an Xbox.
He started making experiments in 2012. His videos mostly have over 10 Million views. Then he started destroying good electronics, showing what will happen when you do said destruction on said electronics.
Cockroaches Drama
On March 4th 2017, TechRax uploaded a video named Casting Cockroaches + iPhone 7 Plus in Molten Aluminum! In the video TechRax molts alive cockroaches and a iPhone 7 all together. The video made a lot of criticism against TechRax.
On March 5th 2017, TechRax started a Twitter poll asking if he should take down the cockroach video, saying that "people are going apeshit over me killing cockroaches". The poll ended with 77% of people saying no.
On March 11th 2017, Ethan of h3h3Productions released a H3H3 Recap video that had a segment covering the cockroach video, saying that the video was "a little disturbing" and making other various criticisms like why TechRax even made the video and the noise levels.
On March 14th 2017, Pyrocynical released his video TechRax has hit a new low . In the video Pyro roasts TechRax for a lot of different things and he also proclaimed his name into TechRat for creating the video.
Eventually, TechRax decided to take down the video despite the Twitter poll.