Briony Kate O'Halloran (also known as teenageCrime3) is an Australian YouTuber. She joined YouTube on April 17, 2011, and made music videos and vlogs. Briony's inspiration came from LittleMissLovelysxx who also makes music videos. In 2014, she went on hiatus and returned with a new video on 19th April 2016.  
Briony has several youtube accounts. A vlog channel Buriony a beauty channel, with  kaityxalyce, aussieimperfections, a backup channel justmebriony  and a tutorial channel, also with kaityxalyce, iVegastutorials .
Hiatus
On March 31, 2014 Briony took to her facebook and made a status about finishing youtube.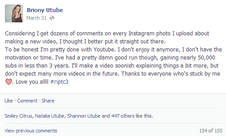 She wrote: "Considering I get dozens of comments on every Instagram photo I upload about making a new video, I thought I better put it straight out there.  To be honest I'm pretty done with Youtube. I don't enjoy it anymore, I don't have the motivation or time. I've had a pretty damn good run though, gaining nearly 50,000 subs in less than 3 years. I'll make a video soonish explaining things a bit more, but don't expect many more videos in the future. Thanks to everyone who's stuck by me . ♥ Love you allll #riptc3"
Everyone thought this was a joke due to the next day being April fools day but she  assured everyone that she wasn't aware of the coincidence with the date and that it was real. She has kept all her channels despite them not being active.
On the 19th April 2016 (20th April Australian time) she uploaded a new video to her YouTube channel, announcing her possible return to YouTube after been inactive for nearly three years. She has deleted all her past videos and is now using her full name on her YouTube channel.
COLLABDOWNUNDER
In 2012, Briony became Wednesday's vlogger on CollabDownUnder , a channel with four other Australian youtubers: smileycitrus , kaityxalyce , HeyImNatalia and shannonuncut . As it was an Australian summer collab channel, the channel ended in January 2013 as the new school year would be starting. Uploads occurred once more later that year.