Joseph Beaubien, better known online as Terrible Writing Advice, is an American YouTuber who makes satirical, sarcastic videos giving people generic terrible writing advice, comedically framing the advice as if it were "positive" advice.  He has also written a science fiction novel called Aeon Legion.  The first volume is called Labrynth.  He even created a second YouTube channel called Aeon Legion dedicated to it.  
Various Channels
Videos
Terrible Writing Advice Videos
Terrible Writing Advice
DYSTOPIAS
MARY SUE
FANTASY RACES
ENVIROMENTALISM
ALIEN RACES
URBAN FANTASY
SLASHER FILMS
HOW NOT TO WRITE STAR WARS
MARKETING AND PROMOTION
MAGIC SCHOOLS
EVIL EMPIRES
WRITER'S BLOCK
POST APOCALYPTIC
CHOSEN ONES
BEGINNING A STORY
WAR STORIES
TAKING CRITICISM
ALIEN ECOSYSTEM
ANTIHEROES
FINISHING A STORY
CYBERPUNK
SURVIVAL HORROR
FANTASY BATTLES
GIVING CRITICISM
INTRIGUE PLOTS
DARK LORDS
ACTION SCENES
WORLDBUILDING CULTURES
CHARACTER DEVELOPMENT
STEAMPUNK
RIVALS
Honest Thoughts
THE NATURE OF CLICHÉS
Aeon Legion Videos
Aeon Legion Book One Trailer
Book
This science fiction novel, called Aeon Legion:  Labrynth, is set in a palce called the Edge of Time where all time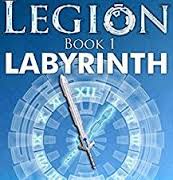 blends together, the titular Aeon Legion guards history from the disastrous alterations of time travelers.  
External Links
Gallery