The Young Turks (TYT) is an American political commentary web series and a progressive/left wing news show hosted by Cenk Uygur and Ana Kasparian. It began as a radio program in 2002 on Sirius Satellite Radio and later on Air America, before airing in 2005 on YouTube and later on Roku and Hulu.
The show had spawned a multi-channel network of associated web series known as the TYT Network. A documentary was produced about The Young Turks entitled Mad As Hell in 2014.
According to The Independent, The Young Turks is the "most watched news show in the world" .TYT currently have over 4 billion views and 3 million subscribers on YouTube.
Format
The Young Turks live streams for two hours. The first hour focuses on American politics, foreign policy, and breaking news and is hosted by Cenk Uygur. The second hour provides social commentary on a wide range of topics both domestic and foreign and is hosted by Ana Kasparian along with Cenk Uygur. In the post-game show, Cenk and Ana discuss their personal lives. Issues that the show focuses on include the influence of money in politics, drug policy, social security, the privatization of public services, climate change, the influence of religion, abortion and reproductive rights, and sexual morality.
Every Friday, The Young Turks features a panel of guests from the worlds of politics, journalism, pop culture, sports, and comedy. It is led by John Iadarola and Cenk Uygur in the first hour and Ana in the second hour. Other fill in hosts and recurring guests include: Ben Mankiewicz, John Iadarola, Jimmy Dore, Brian Unger, Hannah Cranston, Hasan Piker, Becca Frucht, Brett Erlich, Wes Clark Jr, Michael Shure, Cara Santa Maria, RJ Eskow, Dave Rubin, Gina Grad and Kim Horcher.
Politically, The Young Turks is liberal/progressive. Cenk Uygur describes himself as an "independent progressive" and asserts that the show is aimed at the "99 per cent 'not in power'" and what he describes as the 60% of Americans who hold progressive views.
History
Radio Program
The Young Turks as a show began when Cenk Uygur started a talk show similar to a public-access television cable-TV show he had done previously called The Young Turk. With the help of friend Ben Mankiewicz (with whom he had previously worked), his childhood friend Dave Koller, and Jill Pike, he began The Young Turks as a radio show in 2002 on Sirius Satellite Radio.The show's name derives from the English-language phrase "Young Turk", meaning a reformist or rebellious member of an institution, movement, or political party. The term "Young Turks" also refers to an early 20th-century Ottoman youth movement.
Web Series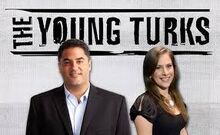 According to The Guardian, The Young Turks is the first daily streaming online talk show, having started in that format in 2006.
In August 2007, Mankiewicz left the show to move to a new television show for TMZ. At roughly the same time, Pike left to pursue a job in Washington, D.C. Ana Kasparian, then an intern, was hired to do pop-culture segments. Mankiewicz eventually returned to The Young Turks as a regular correspondent.
During the 2008 elections, the show developed close ties to Brave New Films. They aired ads for the film company and featured actors such as Robert Greenwald and Jonathan Kim.
It was announced on July 30, 2013 that The Young Turks launched on Roku with the TYT Network. The Roku channel will feature much of the same content that's already freely available on The Young Turks' YouTube channel, which has over 2.9 million subscribers and generates 50 million monthly views. The network is among the few channels to generate more than 1 billion views since launching on YouTube.
In April 2014 The Young Turks launched on Hulu as a channel. TYT released "The Young Turks," a condensed 30-minute version of TYT's self-titled two-hour daily show, as well as a 30-minute weekly version of its daily pop-culture show "PopTrigger," with other shows being added shortly after.
As of August 2013, TYT had approximately 4,000 paying subscribers online.That number had reportedly increased to more than 10,000 by the spring of 2016. The website's yearly revenue was roughly US$3 million in 2013.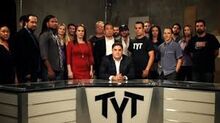 According to Cenk Uygur, "about a third of the revenue comes from subscriptions, and the rest comes from YouTube ads." The company has 30 employees. In 2014 the company received a US$4 million investment from Roemer, Robinson, Melville & Co., LLC, a private equity firm led by former Louisiana Governor Buddy Roemer.
Multi-Channel network
The Young Turks has spawned a multi-channel network of associated web series known as the TYT Network
| Name | Description |
| --- | --- |
| The Young Turks | The main channel. As of May 2016 the main show has nearly three million subscribers and well over two and a half billion views. |
| ThinkTank | Hosted by John Iadarola and Hannah Cranston, ThinkTank deals with new facts and discoveries, new perspectives, learning more about the world and the people around you. As of May 2016 ThinkTank has over one million subscribers and nearly half a billion views. |
| TYTSports | Originally featuring Cenk Uygur, Jayar Jackson, and Ben Mankiewicz. Until April 2014, it was hosted by Rick Strom. |
| What the Flick?! | Featuring movie reviews by Alonso Duralde, Ben Mankiewicz, Matt Atchity of Rotten Tomatoes and Christy Lemire. |
| Pop Trigger | Hosted by Samantha Schacher and Brett Erlich. The show features a number of regular contributors including Bree Essrig, Shanna Malcolm and Jason Horton. The show tries to provide some intelligent conversation on news from Pop Culture. Pop Crunch is a green screen satirical breakdown segment written and hosted by Hasan Piker. |
| Nerd Alert | Hosted by Kim Horcher, Nerd Alert is a spin-off show of TYT University focusing on news about technology, gaming, movies and online geek culture. |
| Secular Talk | The Kyle Kulinski Show on Secular Talk Radio Network |
| The Point | A current affairs panel show hosted by Ana Kasparian. |
| TYT Politics | A U.S. politics based channel featuring content from contributors to The Young Turks, primarily Jordan Chariton |
Awards and nominations
The Young Turks has won and been nominated for numerous awards.
Political category at the Podcast Awards in 2009. 
Best Political News Site category at the Mashable Open Web Awards in 2009. 
Nominated in the Best News or Political Web Series and Audience Choice Award for Best Web Series categories at the Streamy Awards in 2010. 
Won in the News category at the Shorty Awards in 2011. 
Won in the News and Political Series category at the Webby Awards in 2011.
Won in the Best Video Podcast category at the Podcast Awards in 2012.
Nominated in the Best News and Culture Series and Audience Choice Award for Series of the Year categories at the Streamy Awards in 2013. 
Won in the News and Culture category at the Streamy Awards in 2015.
Trivia
References
External links