About FatalKenshen
Edit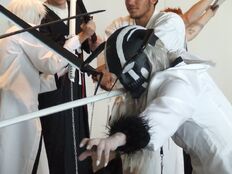 Ketsueki Asura Nakazora also known as
FatalKenshen
is a well respected member of the YouTube Let's Play community and The Syndicates Clan and other social websites and groups.
He joined on November 20th 2010, under the username, that is FatalKenshen, which he got the idea from a japanese horror game called Fatal Frame and a anime called Rurouni Kenshin. which he used his imagination by using the first word of his favourite horror and the last name in his favourite anime, thus creating FatalKenshen.
He first posted a Christmas update stating that he will upload soon but due to his dazzle problems, he was unable to do so until till 20th september 2011 when he sold it for a EasyCapture Card and with the help of a friend, He started his first let's play of Bleach Resurrection with coop commentary with Muzzy-100 AKA Muzzy or Muzzy100Gaming.
He is normaly online on his xbox under the the name FatalKeshen or on his PS3 under the name FatalKenshin which both Travis And Daniel Chacon have with them
Ketsueki's appearance and details is entirley unknown but he had described himself to his friends, that he has black hair and blue eyes but not mentioning it till 2011,
He has been offered to be in coop games with some of his friends especialy Muzzy-100 to Daniel Chacon AKA MegaExgamer andTravis AKA TGPGamingHDhe his known for his kindness and his sense of humour and he has shown his gaming skills in many games, he has joined many groups from the SGDL (Serious Gamers Dont Lose) to many other websites and groups,he has also shown that he is tatical in games like black ops to other shooters like gears of war 3 but he also enjoys playing halo reach to animated games like Okami and bleach, but he likes to spend most of his time reading and drawing, he is trying to prove to the world, how fun lets playing can be and to encourage others to become Let's Players
Trivia
=====Ketsueki is a Britasian from japan, who has british and asian ancesty=====
=====Ketsueki Nakazora is japanese in english meaning 'Blood Hollow=====
=====Ketsueki has a british accent even thoug he's britasian and knows two japanese words Konichiwa (hello) and Baka (idiot) and his own name as for the rest, he speaks english=====
=====Ketsueki has skitsophrenia, since he talks to himself and refers himself as We instead of I=====
=====His friends refer him as Kenny, Faith or Zero, Dan calls him kenshen which he does not pronounce right=====
=====he is an only child his older twin died in a car accident when he was 8 years old an traumatised by his brothers death for 2 years=====
=====Kenny has Arachnophobia, even though he plays games like skyrim, which has giant frostbite spiders=====
=====Kenny is known for his crazy sense of humour and laughter=====
=====Kenny has hollow ichigo contact lenses=====
=====He has blue eyes and jet black hair=====
=====his blood type is O+ while is brother is O-=====
=====Kenny doesnt like it when travis and dan argue with each other=====
=====His favourite food is Noodles but his least favourite food is spinach=====
=====Muzzy is one of kenny's closest friends since he was a child at school.=====
=====Kenny was born on 31st October 1996 at midnight on Halloween. =====
Videos From FatalKenshen's Channel on Youtube.com